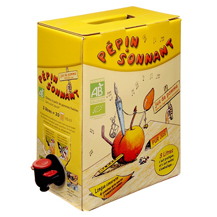 Pépin Sonnant is the name of one of the varieties of apples used to produce this juice 100% natural and handmade. It is an old lacal variety of Central Brittany popular with children. If you shake the fruit, you will ear the seeds rigning inside!…
The mix of acid and soft varieties gives a balanced juice, sweet and nonalcoholic. Ideal for the thirst of children and adults.
The 3L BIB format is ideal for families: thanks to its flexible and airtight bag system, you can drink the apple juice until 1 month after openning!
Pépin Sonnant is available in 1 liter bottles and in Bag in Box with 3 liters eco-refill.